&nbsp
I have organised and led ten medical missions to Lebanon since   2016   to   treat   Syrian   refugee children   with congenital bone, joint and limb deformities who would otherwise have not been able to afford or access treatment.
I trained in the United Kingdom 1996-2006 and returned to practice in Damascus, Syria in 2006, as one of only two paediatric orthopaedic surgeons in 2012, during the second year of the forcibly displaced from Damascus the country. In conflict, I was as it became increasingly   difficult   to   avoid   the politicisation   of medical care (7). I was blessed to find employment as a consultant paediatric orthopaedic surgeon in the North of England.
Since resettling in the UK, I have taken the initiative to fundraise through diaspora non-governmental organisations (NGOs) to undertake medical missions to provide paediatric orthopaedic services to displaced Syrians in Lebanon. Lebanon hosts the largest number of refugees per capita in the world (3), with 1.5 million Syrian refugees for Lebanon's population of around 6 million. Most of these refugees live in Lebanon's poorest two regions: northern Lebanon (Akkar) and the Bekaa Valley. They suffer from dire housing, education, and health conditions (2).
Health services especially, have become increasingly inaccessible to them given the prohibitively high costs and the mostly private nature of the health system (4).
Since 2019, the economic and political situation has been getting worse and many Lebanese doctors have left the country, which has made access to treatment even more difficult.
In         terms    of         paediatric         orthopaedic      services, developmental dysplasia of the hip (DDH) is very common   between   Syrian refugees   in   Lebanon   for different reasons; swaddling is still very common unfortunately as is intermarriage (endogamy) (9). However, there is no screening system to make the diagnosis    early,    though DDH    can       be        treated conservatively with   a   splint(8).   Congenital   Talipes Equinovarus CTEV (club foot) is another deformity that is not uncommon among Syrian refugees, unfortunately unnecessary surgical procedures are still prescribed locally when alternative serial casting and percutaneoustenotomy provides much better and more cost-efficient results.
To be able to help address these local challenges in my speciality area, I have been conducting short medical missions to Lebanon that generally last around 7 days and consist of around 2 days for a screening clinic and 5 operating days. During these 7 days I would generally see   around   80   patients and   perform   around   20 procedures.
The first step in organising these missionswas to find a diaspora NGO that could support my mission in terms of providing the equipment, venue, and logistics necessary (administratively) plus/minus financially. The organisations that have supported me include the Syrian British Medical Society (SBMS), the Syrian American Medical   Society   (SAMS) Syria   Relief,   Action   for Humanity, and Multi-Aid Programs (MAPS).
On more than one occasion when the NGO could not cover the costs of the mission, I had to fundraise through social media and close friends.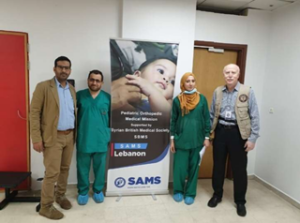 Secondly, an essential piece of the puzzle was a local NGO in Lebanon (MAPs) that would advertise to potential patients about the medical mission on social media, around a month before the mission. Parents could upload the medical reports and imaging of their children to the NGO. I then did the patient triage and chose the children who I felt would benefit most from the mission.
Thirdly, in Lebanon I always worked with a local general orthopaedic surgeon who would physically screen patients and assist in performing procedures once I was in Lebanon. On one hand, this was a learning opportunity for us both, as I would learn more about local practice, and they would consolidate their skills in paediatric orthopaedics. On the other hand, this surgeon could follow up the patients and we would then discuss the outcome of the procedures after I had come back to the UK. The organisations that have supported me include the Syrian British Medical Society (SBMS), the Syrian American Medical Society (SAMS) Syria Relief, Action for Humanity, and Multi-Aid Programs (MAPS).
More specifically, I have used my visits not only to treat patients but to train local surgeons on Ponsetiserial casting to treat CTEV from the early stages (1). Additionally, we have worked on the use of ultrasounds screening for early diagnosis of DDH and making Pavlik Harness splint available to treat DDH from early weeks, to prevent the need for further surgical interventions (8).
On several occasions, I managed to give lectures and discus clinical cases with local Orthopaedic Surgeons.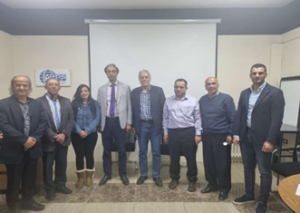 On reflection against my practice in the UK, the longer treatment is delayed, the worse deformities children suffer of as well as increased complexity, complication and hence prognosis of further treatment. In the UK, I very occasionally face late presentation missed diagnosis cases.
These are dealt with very swiftly, through an urgent waiting list, to be treated within a couple of months Unfortunately, in Lebanon most of the children I saw, had been diagnosed and treatment had been planned but parents could not afford it, they would see their children deteriorating and their mobility getting worse but would know that there was nothing they can do about it.
A significant part of the challenge is that it is never easy to work in different hospitals with differing systems, equipment and staff. I had to adapt my surgical technique to suit whatever is available, without compromising the outcome. I had to tailor some devices to facilitate my work like a hip spica table.
I have shared these steps and my experience in organising medical missions in the hope that they may be of use to others who consider sharing their clinical expertise with the countries they come from, and with other places where they are most needed. UK-trained physicians have a long history of participating in medical missions to places that most need them, though normally these efforts are led by organisations. My experience is that it is possible for the individual physician to take the initiative and that support will follow. Additionally, it is notable that focusing on a specific geography and need, for a significant amount of time, plants the seeds of sustainability. For me this has manifested in the ability to transfer   knowledge   with   local   surgeons,   follow-up patients,    and     build     lasting     relationships                 with organisations.
References
Cooper DM, Dietz Treatment of idiopathic clubfoot: A thirty-year follow-up note. J Bone Joint Surg Am. 1995;77:1477–1489
El Arnaout, N., Rutherford, S., Zreik, T., Nabulsi, , Yassin, N., & Saleh, S. (2019). Assessment of the health needs of Syrian refugees in Lebanon and Syria's neighboring countries. Conflict and Health, 13(1), 1-14.
Haitham, L., Alhasan, M., &Alhalabi, F. (2021, September 3). Thechallenges facing medical workers towards Syrian refugees in Lebanon | Journal of the British Islamic Medical Association. Retrieved April 3, 2023, from jbima.com
Hamadeh, (2019). A critical analysis of the Syrian refugee education policies in Lebanon using a policy analysis framework. Journal of Education Policy, 34(3), 374-393
Kassem, I. I., & Jaafar, H. (2020). The potential impact of water quality on the spread and control of COVID-19 in Syrian refugee camps in Lebanon. Water International, 45(5), 423-429.
Ponseti Treatment of congenital clubfoot. J Bone Joint Surg Am. 1992;74(3):448–454
Sabouni, , &Ekzayez, A. (2021, May 4). The challenges of medical relief and health governance in warzones: Syria as a case study | Journal of the British Islamic Medical Association. Retrieved April 3, 2023, from jbima.com
Sewell MD,    Eastwood       Screening   and treatment in developmental dysplasia of the hip-where do we go from here? Int Orthop. 2011 Sep;35(9):1359-67. doi: 10.1007/s00264-011-1257-z. Epub 2011 May 7. PMID: 21553044; PMCID: PMC3167447.
Pulik Ł, Płoszka K, Romaniuk K, Sibilska A,Jedynak A, Tołwiński I, Kumięga P, Wojtyński P, Łęgosz P. Impact of Multiple Factors on the Incidence of Developmental Dysplasia of the Hip: Risk Assessment Tool. Medicina (Kaunas). 2022 Aug 25;58(9):1158. doi: 10.3390/medicina58091158. PMID: 36143835; PMCID: PMC9502116.